Introduction
In this post, you will learn what is Bot, And we will also see all the bots are the same or not. In many cases, bots are not the same. You will learn how a bot turns into a botnet and becomes the biggest threat to Cybersecurity.
What is BOT?
BOT Stands for "Build operator transfer" in simple words we can say Bots are just robots. Bots is a Software program, which is designed to do repetitive tasks on the Internet. Even top companies like Google and Microsoft use bots helps to interact with users. But the cybercriminals inject bots with Malicious codes and form as a Soldier in a Cyberattack.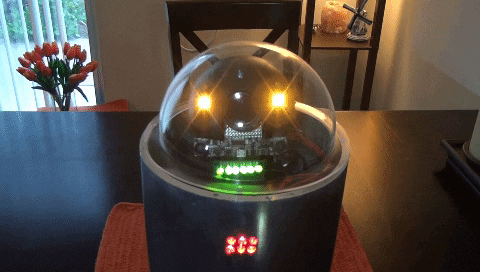 In some cases, cybercriminals create bad bots and put them on the internet to spread malicious software. Bot's don't need any human command to execute a work. The bots are already assigned with work, and the bots will do the work repeatedly, Other than that, bot's don't do any other extra activity.
There are many useful bots like SEO indexing bots and Even Wikipedia is controlled by bots. Those bots do the regular test and check the information given by the users are correct or not. But remember, every bot will have remote access. The person who created the bots can also terminate them.
Also Read: What is Adware? How Adware is spread
Types of BOT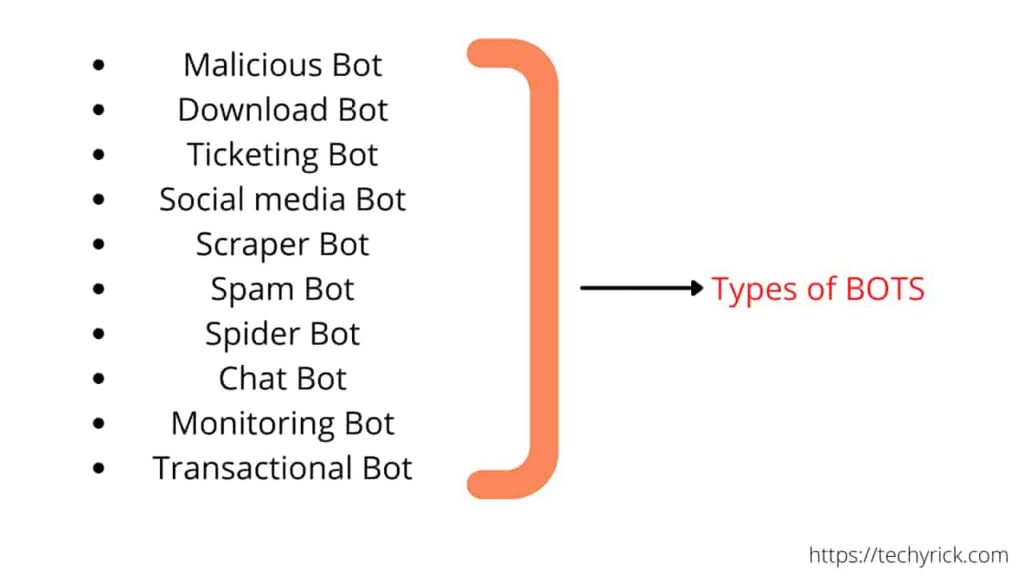 There are many types of Bots. Every time the cybercriminals and the software engineers find new bots. I have mentioned some of the most popular bots;
Malicious Bot
Download Bot
Ticketing Bot
Social media Bot
Scraper Bot
Spam Bots
Spider Bot
Chat Bots
Monitoring Bot
Transactional Bots
Malicious Bot
Malicious bots are used to spread Malicious pieces of software and therefore these bots are created by cybercriminals to get the targeted users information and make them involved in a DDoS attack(distributed denial of service attack).
Download Bot
These Bots are designed to download the file automatically. When you visit a porn site or movie downloading site, they take quite a second to download, but the downloads will not ask for the user's permission.
Ticketing Bot
The ticketing bots are used any many useful ways these bots are responsible for booking a movie ticket and even while crossing a tollgate these bots are responsible. These bots are also used in grocery shops. During the pandemic, these bots saved lots of lives.
Social media Bot
Social media bots are widely used in social media pieces of software. Where the telegram is mostly run by bots and the social media bots are responsible. From creating a social media account to recovering an account, these bots is used.
Scraper Bot
Some sites can be saved offline, and the scarper Bots is responsible for saving the content offline.
Spam Bot
These bots filter spam mails and above all separate them into a folder. A spambot is also used in a Phishing attacks.
Spider Bot
The spider bots crawl internet content and index those contents. These bots are also called web crawlers and are mostly used in SEO.
Chat Bot
These bots are developed to interact with humans and the interesting fact is these bots act the same as humans. That's why when you enter into a telegram group, you get a welcome group from bots.
Monitoring Bot
These bots are used to monitor the system and website health. Which means the monitoring bots run a regular scan and check for any malware.
Transactional Bot
Transactional bots are responsible for transferring money online. Because of these bots, you are getting the secured OTP(Onetime password).
Is Bots safe?
The bots are not safe unless they are used in a good activity. The bots are a robot which is assigned to do a work repeatedly. These bots also ensure your security and these bots can also be seen in CAPTCHA and reCAPTCHA. So, we can't say bots are safe or not unless we knew the bot's activity.
Also Read: Difference between SSL and TLS
How bot becomes botnet!
A Bot becomes a botnet if multiple bots work together and to achieve the same target. Cybercriminals inject devices with Malicious software programs and the device will be a participant in a DDoS attack or various other cyberattacks.
Moreover, the most interesting part is some users don't know they are into DDoS attacks themselves. So, run a regular scan from your anti-malware. So, multiple bots become botnets.
Also Read: What is a skimmer device? How to find a skimmer device!
Advantages and disadvantages of Bots
Advantage of Bots
Work 24/7 and reduce the time of humans.
Faster than human while doing a repeated task.
Therefore, the customers time is reduce and there is a better chance to get good rating.
Bots can send messages to a large group with a period of time.
Bots will improve users experience.
Disadvantages of Bots
Bots cannot do an exact work as commanded.
Sometime two bots may miss intercept and the humans should manually make it right.
Bots can become malicious.
Used for spamming.
Conclusion
In conclusion, I recommend users to use an Anti-Malware. Moreover a regular scan to check for any bots. Generally the bots are safe, but the assigned work by software engineers or cybercriminals are different. Therefore, Bots are very much needed.
---
Also Read: Difference between CAPTCHA and reCAPTCHA?
Also Read: What is CAPTCHA? Are they really blocking robots
Also Read: Difference between bar code and QR Code – Explained
Also Read: What is QR Code? How does a QR code