Introduction
In this post, you will learn what is goofile and how does the tool works and also you will learn additional information about the tool and check out the video format of the post. Don't like my voice comment down below wanna take with you guys…
Video:
What is goofile?
Goo-file is a pre-installed tool in kali Linux and using this tool you could gather information on the file type of the target. It's is a very useful tool and also there is an alternative for this tool that is google.
Google may be the alternative but goo-file is the place to find all in one file type.
Also Read: Information gathering using whatweb
Advertisment
Who developed the goofile tool
The tool is developed by Thomas Richards and this tool could also perform other search engine searches so, I have given the download from the GitLab and to download the tool in Debian based machines just enter sudo apt-get install goofile.
What all the goofile can do❓
The tool can just gather information of the target file type like pdf, word, excel and so on…. and you could find all the file type in one place that is goo-file.
Useful commands in goofile
-d: domain to search
-f: filetype
-q QUERY, –query: Only search for files with keyword
Advertisment
How to use goofile
Follow the steps carefully, If you have any doubt comment down below and I will clear your doubt and just follow the below steps;
Example1: Standard scan
In this example let's do a standard scan,
goofile -d tesla.com -f pdf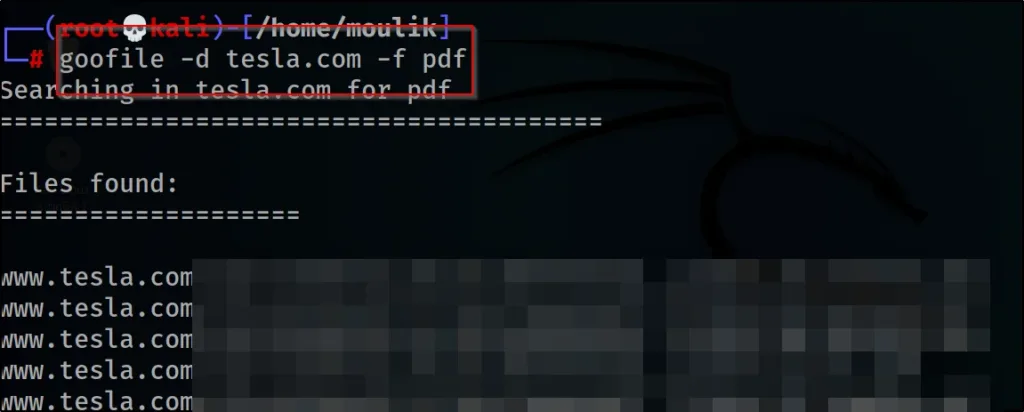 Example2: File type
searching for other file types like word and so on even you could also search for excel while searching for excel you could also get the company data and one could manipulate it
goofile -d google.com -f txt
Example3: Specify keyword
Let's search for specific keyword files on the target
goofile -d google.com -f pdf -q google
Conclusion
According to my knowledge, I love tools and the alternative for this tool is goofu which means you could manually search on the google but If you are kind of lazy go with goo-file.
Advertisment
---
Also Read: Wappalyzer info gathering
Also Read: Subdomain information gathering
Read: DNS-recon info gathering